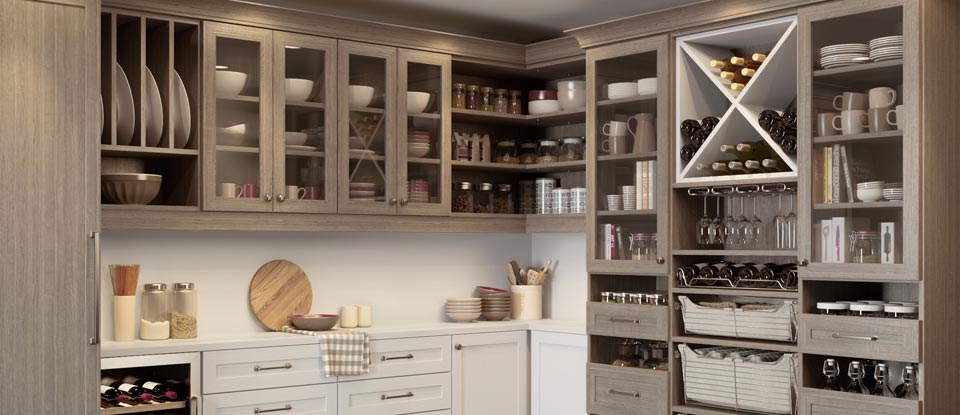 The crown jewel of a kitchen is the pantry because a pantry is where we go daily for almost everything related to culinary needs. It is bothering when you go in a cluttered pantry to try and find something and don't know where to start. Don't you think it's time to know exactly where everything is in your kitchen with a single thought? If so, it's time for you to get your own custom kitchen pantry. With many different storage options, it will help you get the kitchen you always wanted. There are some trouble-free strategies you can remember to follow to get the best use out of your kitchen. The pantry itself can have adjustable shelving, baskets, and more depending on your request. Designing a pantry can be easy with and fun because you know what is best for you. There are many different aspects of a customized kitchen pantry. Depending on what you want in a pantry, you can always mix and match. When designing a pantry, it is important to keep in mind the amount of space you have and the amount of space you need. Making sure your design tailors your specific wants and needs will make it more accessible and you will adapt better to the changes.
Once you have your custom kitchen pantry here are some tips to remember to stay organized:
Know what you have in your panty
You can take inventory of everything you have so when it comes to what you need you will know.
Try to get pull out drawers
Makes for easy compactable storage. Having pulled out drawers within your pantry can definitely maximize your pantry space. You can store anything from fruits to utensils in these drawers.
Any plastic containers you may have, stack them
Again, you want to be able to use as much space as possible in the pantry. Stacking the containers on top of each other opens up space for other things to go there.
If plausible aim for clear containers
You can see what is in the container without even having to open it. Being able to look into a container before opening definitely saves time.
Group together all the similar products to make them easier to find
You don't want to have your chips and dishes dispersed all over the pantry. I will be harder for you to remember where the specific product is.
Label products
Labeling is very useful, especially with a non-clear container, because it can tell you what the product is and you don't have to go opening everything in your pantry trying to find one thing.
Avoid storing anything that is food related on the floor, aim for the shelves only
This is for sanitation reasons.
When storing, store smaller items in the front and taller ones in the back
If something is about to expire place it in the front so that you have easier access to it before it goes bad
Each feature of the pantry has its own use. Knowing how to utilize features correctly can help lead to a more organized pantry. Keeping the compartments organized is the bulk of it when trying to keep the whole pantry clean. Mainly when you have organized baskets and shelves everything else will follow suit. Understanding that each part of the pantry has its own use can help to have an immaculate pantry.
An example of some parts a pantry can contain are:
Shelves
Shelves can be used for a myriad of things: Dry foods, canned foods, drinks, cooking tools, etc. Shelves are usually the majority of a pantry because they are so versatile. If you have anything glass in on the shelves in the panty it is highly recommended you put that on the lowest shelf, so that there is a smaller chance of it breaking. It is easy to get unorganized with all the shelf space available. To keep your pantry organized group everything that is similar on the same shelf. Avoid putting cereal and pans on the same shelf, try and keep it unified. With a custom kitchen pantry, you can also request pull out shelves that would make for easy and appealing storage.
Lower-level – for the glass and big pots and pans

Mid-Level – food, seasonings, cups, plates, etc

Upper-level – Any decorations you may have, or mixers. Typically, things you don't use as much
Baskets
Baskets are one of the most versatile aspects of a pantry as well. In relation to shelves, they can pretty much hold anything. Baskets in the pantry are very beneficial because they can literally be used for everything and then placed neatly for storage. Baskets can either be placed on the shelves in the pantry or the can have their own cubby to be placed it.  All this is dependent on the custom kitchen pantry layout you have created.
Spice Racks
Spice Racks can be used when storing seasonings. It would be beneficial to try and keep all of your seasonings in one place so that you are not all over the kitchen trying to find different ones. This is where easy storage comes into play. You will not have to worry about stuff falling or hiding in the back because everything will be together. The spice rack should be at the height of the consumer so that is not a hassle to reach. Due to the fact that spices will get used a lot you want to make it easy to receive them.
Once your pantry is organized it will make it easier to organize the kitchen as a whole because they are similar. Keeping all of this organized mainly consist of weekly checks and cleaning to make sure everything is still in its appropriate spot. Keeping your designed pantry organized will make life much easier when it comes to cooking or even just snacking. If you are an avid chef who is always whipping up some amazing recipes then the organization will make your life far more simple and save you some serious time. Remember when cooking, you still have to clean up! So why not make your life easier with an organized and well-kept kitchen area. Keep your pantry tidy with these tips! See more visit: Walkin Closets of Florida.