Kitchen is the busiest place in a house. While this is the place, you will enjoy those wholesome family meals, and create some beautiful memories in, it is also the place that sees clutter, traffic, stains, burns and what not. When your kitchen is smaller, storage and efficiency can be real problem makers. Solve the problem of space and storage with these easy tips for organizing a small kitchen.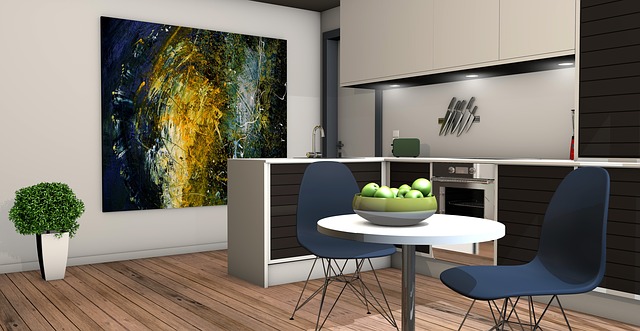 1. Use the Doors to their Full Capacity
The inside of your pantry door is an area that can maximize kitchen storage space for you. Use this door, by adding a few racks and store your canned goods, spices, sodas, and much more. Install one or two magazine holders on the doors and get your plastic wrap and aluminium foils out of the way by storing them in the magazine filer.
Talking of doors, use the back of a cabinet to hang your most frequently used cooking utensils. It will be a good alternative, than to cram your already full drawers. Hang cork boards on the inside of your cabinet to take advantage of every bit of space. Plug in some hooks and use them to hang measuring cups, coupons, recipes etc. Cabinet doors are indeed very versatile. A sheet of tin on the inside of your cabinets could also mean a magnetic spice rack
2. Use Lazy Susans and Super Cabinets
A super pantry is a great add-on in a small kitchen. Install it in a floor space that is not being used and meet all your cabinet and pantry solutions. Pull-out drawers and racks allow you to store all of your pantry items into one convenient location using a fraction of the space of a regular pantry. Check out your local department store, or utility and kitchen solution collections online to find your perfect match. Consider investing in a Lazy Susan to free up all the awkward spaces and making them worthy storage solutions.
3. Use Different Kinds of Pull-Out Baskets
Mornings are the most rushed time of the day. Packing lunch for the kids remain one of the most stressful chores in the morning, and leaves your kitchen in a complete mess. Have open racks in your kitchen. Use the racks to stack up a few pull-out baskets. Stock them up with sauces, ready-to-eat snacks, dinner sides, cookies and the likes that can double both as breakfast, as well as grab-and-go snacks for those days when you just can't manage to put together a tiffin for your little one.
Cold in the Earth is an exploration of the psychology of loss. The poem is clearly a lament and grieving for a dead lover, and the dawn of a realization that moving on does not mean forgetting the beloved. It comprises of 8 quatrains in iambic pentameter. Grief, death, loss, memory, remembrance and the passage of time are important themes in the poem. The power of memory to keep a love affair going post the death of a loved one both pulls at the heartstrings as well as add a maturity and poignancy to the poem.
4. Have some Fun with Magnets
Think of all that space on your fridge door. Make good use of them by making a cute magnetic spice holder by yourself. Think of all the space you will be saving. If, however you want to keep the refrigerator door as a canvas for your trip magnets, you can make a magnetic spice rack on the inside of your cabinet. Follow this easy tutorial and have your own spice garden at the back of your cabinet.
5. Sink Drawers that Tip Out
Indulge in some DIY, or get a professional to install sink drawers that tip out. All you will need are some hinges and a convenient tray that functions as a tip-out drawer. The cleaning solutions, scrubs and more can all be residing there peacefully, while your counter and sink looks squeaky clean.
6. Cut the Clutter
This is a tip that works well irrespective of the size of your kitchen. However, it is especially important for those with smaller kitchens. Think all those hundred recipe books, thousand menus and coupons you have stacked up in the kitchen and are literally lying everywhere. Well, you need to purge, purge, and purge. Throw away all those things you don't need anymore. For the rest of them, attach a couple of plastic sleeves to the inside of a cabinet drawer and pile them up. Don't waste premier drawer space.
7. Use the Vertical Spaces
Look high as you try to find a place to fit your pots and pans. A hanging rod or rack is all you need to keep these essentials our of the way. Use an adjustable shelving on all these spaces, and keep your favorite products easily reachable. Use suspended baskets to store all your go-to ingredients without cluttering up the kitchen counter. Have shelves on your empty wall spaces for small bottles, hooks for cups, spoons and maybe even a metallic stripe for knives. Wall-mounted wire shelving can also serve to keep your essentials really close.
8. Don't Forget Those Hidden Spaces
Use the side of your lower cabinets, by fixing some sturdy hooks on it, and hanging heavy, noisy items like colanders and cutting boards. Also, there is quite a bit of space hiding beneath those cabinets. Get a carpenter on board to fit in tiny, flat drawers that can contain all your cake pans and baking dishes. Installing two or more rods beneath the sink allows you to store rolls of plastic bags that we use for a number of reasons at a time and also frees up floor space, for things like cleaners, and other essentials.
9. Take help of Efficient Kitchen Accessories
To make your kitchen truly functional, you need to up your kitchen organization skills and some quality kitchen accessories can help you achieve just that. Invest in things like a cutlery organizer that keeps your knives and spoons organized in a single place, and away from the reach of your kids and toddlers. Make sure to buy these in shapes and sizes that fit your drawer. Divide your drawer spaces using these cutlery organizers and conquer organization woes.
To Conclude,
So, these were some easy to pull off kitchen organization tips which can make your small kitchen feel larger and much more convenient. Let us know if these were helpful to you, and if you have any more such kitchen organization tips.