Imagine how you would feel if you knew that you could give your kitchen a makeover, without having to take out a loan. Giving your kitchen a new look is easier than people think, it can be as cheap or as expensive as you like.
There are many factors involved in what determines the cost of your kitchens new look. It will depend on the materials you select, who will carry out the work, and whether electrical or plumbing work is required.
So, if you mean business, and giving your kitchen a makeover is your project of the year, do some research, knuckle down to do some saving and have a shop about for what it is you want, make your dreams come true.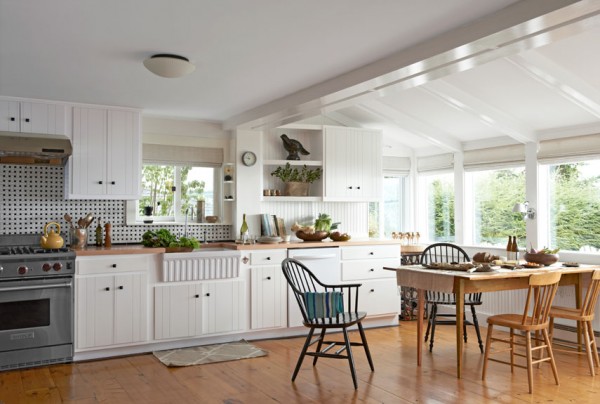 First steps is the Hardware
The impressive thing about kitchen hardware is that a simple upgrade will greatly enhance your cooking space. Sprucing up the décor of your kitchen with a simple update of the drawer and cabinet handles is easier than you may think. Updating the handles is a great option for you if the actual cabinets and drawers themselves, are in a good condition. Why spend more on replacing things that are still doing the job they are meant to.
For example, you could get rid of the old wooden and old- fashioned door knobs and replace them with a more modern look, maybe chrome handles. The most exciting part of this step, is that you can install all the hardware by yourself, although if it is a larger project, maybe get the help of a professional.
Give the Cabinets and Drawers a lick of Paint
The cabinets and drawers in your kitchen are the features which are mostly used (other than the oven and fridge/freezer or sink). So, there should be no shock that they will take a real hit when it comes to the appearance of them. A time goes by, the paint will begin to chip then peel away from the cabinets, leaving it looking unattractive.
Why waste hard earnt cash on replacing whole units, when instead they can easily be painted, and will leave your kitchen with a new, fresh look.
Upgrade Your Countertops
The countertops are crucial to the experience of your kitchen. They play a vital part in where you serve food, bake cakes and generally are the layout for your electrical goods; i.e.- microwave, kettle, toaster. So, lets be honest, the durability of them is hugely important.
It's all about the material – stones are quite popular amongst homeowners. Not only are they durable, but also beautiful to look at and last a very long time, meaning they very rarely need to be replaced. Most countertops will also come with a warranty.
Some stone countertops you may opt for could be, granite, marble or even quartz. It's a good idea to steer clear of cheaper grades of countertops, such a laminate. After a while, laminate will begin peel and chip much sooner. Now, you want to stay away from the cheaper grades, such as laminate. You can expect this to begin peeling and chipping much sooner.
Jamie Smith