Most homeowners and business owners will most likely find themselves, at some point in the course of their lives, shopping for a roofing company to repair, replace or improve the roofing on their houses or buildings.
The quality of your roof is undoubtedly a significant concern. And because the value and stability of a quality roof represents a substantial cost, it is imperative that you conduct your prospecting and shopping for roofing contractors in the most careful and thorough manner that you can.
We understand that you will certainly consider all the resources available and check out the reviews and testimonials for roofing companies in your locale. However, we want to add to your arsenal while you shop around, and arm you with some crucial information that could not only save you time, money and eliminate unnecessary hassle – but also streamline your shopping to help you pinpoint the right contractor for you and your needs.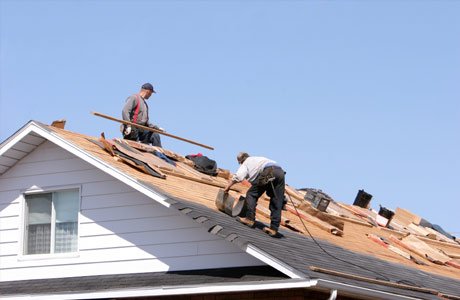 With these pursuits in mind, we have constructed, with the help of our professional roofing experts, a list of 12 questions that you should ask every prospective roofing contractor you meet. If you can't even manage to get through them all without difficulty, abandon that prospect on the spot.
Question Number One:
Can you show me a portfolio of previous projects you've completed?
Question Number Two:
Can you arrange a meeting for me with the crew that will be working on my roof, or enable me to visit a jobsite with a project they're working on?
Question Number Three:
Would you mind showing me your licensing, certification, best practices policies and proof of your existing insurance and safety protocols?
Question Number Four:
Based on my particular needs and the scope of my project, what steps will you be taking to ensure the safety of my home and my family?
Question Number Five:
Are there any special legal obligations (building permits, code compliance, city ordinance, etc.) that I may encounter with this project? Explain how this will be handled.
Question Number Six:
What are your project and/or product warranties, guarantees and workmanship satisfaction policies?
Question Number Seven:
What is my recourse if encounter any problems and to whom would I address my concerns if I need additional support or solutions?
Question Number Eight:
Can you provide me with the exact specifications and detailed plans and/or instructions regarding the execution of my project?
Question Number Nine:
Can you provide me with the exact specifications and detailed plans and/or instructions regarding the execution of my project?
Question Number Ten:
Aside from the crew working on my project, who will be assuring the quality of the work, supervising the execution and approving the completion of my project?
Question Number Eleven:
How will payments be handled?
Question Number Twelve:
What are some typical things that might cause changes in my quote / estimate / project pricing while the project is underway and how do you handle such changes?
We understand that a roofing repair is sometimes a quite urgent matter. You may feel that you don't have the time or the wherewithal to vet each and every prospect with such detailed diligence. This is entirely understandable.
However, bear in mind that this very fact is often very well known among less-than-reputable roofing companies and they will actually leverage this sense of urgency against you!
In an ideal scenario, you will have plenty of time to prepare for your new roof project or repair. If that is your position, there is absolutely no reason you should bypass any of the above questions. Remember, this isn't just about finding the right roofing company for the current project you're planning – it's about finding a roofing company that you trust and upon whom you can call with confidence on any future projects as well.
The take away here is that you'll only need to go through this process one time! After that, you won't have to shop around ever again, so long as you remain in an area where your chosen roofers operate.
That's also why we recommend you go through this process even if you are in urgent need of roof repair or new roofing construction. Rest assured, you will find yourself better off in the long run having spent the extra time and energy properly vetting a roofing company and getting high quality results, as opposed to jumping hastily into something of which you are uncertain.
The roof over your head is imperative to the livelihood of you and your family. Get a good one.
Heath Hicks is a roofing industry blogger and owner of www.avcoroofing.com