When it comes to remodeling a room or even an entire house, flooring is always a consideration. In some cases an exceptionally beautiful, well-kept and/or expensive floor is retained. In other cases, the old flooring no longer suits the decor of the renovation and is taken up.
A homeowner who has used a certain contractor to install their flooring before and is pleased with their work can at least try to hire that contractor again. However, highly skilled and conscientious contractors of any type are often busy. If their old contractor isn't available, the homeowner is going to have to do some of the legwork that they did before. This means finding leads, referrals and recommendations, drawing up a list of flooring contractors and sitting down with their representatives for face to face interviews. After this, it's up to the homeowner to settle on a contractor, and trust that they'll do a good job.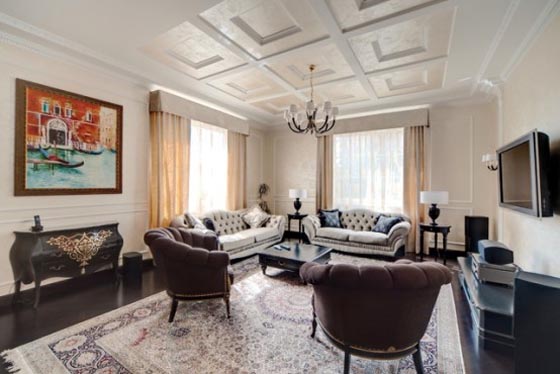 Recommendations and Referrals
Compiling a list of flooring contractors often begins with recommendations and referrals. The difference between them is that referrals are advertisements that can be found on billboards or in the Yellow Pages. The number of referrals found on the internet, for example, is bewildering, though some referrals do impart important information. A homeowner can learn that a certain flooring contractor is a member of the National Association of the Remodeling Industry, and they have no outstanding complaints against them on the Better Business Bureau's website. There are other, reputable referral sites that only refer businesses who have been operating for a certain amount of years, have clean records and best of all, operate in the homeowner's neighborhood. Despite this, the homeowner still may not find a contractor who is simpatico, agrees to their price or does stellar work.
Recommendations come from people who have actually worked with the flooring contractor, be they neighbors, co-workers, relatives and friends, general contractors or real estate agents. The homeowner should ask to see the work the contractor performed, if that's practicable. There are some contractors who will proudly take a prospective customer around to see their previous work.
Even a highly recommended contractor still needs to be vetted by the homeowner. One red flag is a flooring specialist who is available for the job right away. The homeowner needs to wonder why they are not more in demand if they are as good as they say they are. On the other hand, the contractor might do excellent work but is new and hungry.
Putting the job out for bid is yet another ordeal, but before this step is taken the homeowner should know exactly what type of flooring they want for each room. They can simply decide on this y visiting a flooring company or a big box store or take on an interior designer who can advise the best type of flooring for the space, whether it is hardwood, softwood, laminate, vinyl, tile or stone. If the homeowner isn't sure what type of floor they want to install, the bids are going to be even more confusing than usual. Each contractor must bid on the same job, even if they end up with different estimates.
In the end, the homeowner should have a beautiful new floor installed with minimal stress and anxiety and a contractor they'll happily recommend to friends and co-workers.
Christopher is an author and blogger who is passionate about home improvements projects. Making time to help family and friends while working with Brucke Flooring.