Dental check-ups and procedures can be stressful, uncomfortable experiences for adults but for children they can be downright terrifying. Many parents enlist the services of their general or family dentist to care for their children as well. However, pediatric dentistry is widely acknowledged as the best option for children's dental care. Pediatric dentistry is a specialization (also known as pedodontic dentistry) which focuses on children's dental health from infancy through adolescence. A pediatric dentist receives special training that makes him/her uniquely qualified to care for the dental needs of children throughout all stages of growth and development.
What Training Do Pediatric Dentists Receive?
Bachelor's degree typically science-related
Dental school four year program
Residency 2 to 4 years specialized training with infants, children, adolescents, and special needs children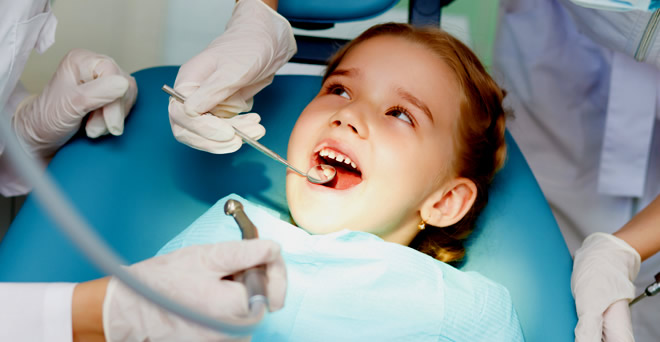 By comparison, family dentists and general dentists have no specialization and are able to begin their practice directly after dental school without completing a residency. A general dentist caters to a wider age group and, while they will treat children as well, they do not have focused experience will the dental issues that can arise as children's mouths grow and develop. Maintaining gum health and preventing caries in baby teeth are important priorities for a pediatric dentist who understands that this developmental stage lays the foundation for dental health into adulthood. Realizing the limits of their knowledge, many general dentists will refer children who are having dental issues to a pedodontist (pediatric dentist) for treatment.
What Services Do Pediatric Dentists Offer?
Infant dental health evaluations and risk assessments for caries
Preventative treatments such as dental cleanings, fluoride treatments, habit counseling, and diet/nutrition recommendations
Early intervention for improper bite and teeth straightening
Tooth repair
Dental injury care
Diagnosis of disease-related oral conditions
Management of gum disease and related conditions
Pediatric dental offices are typically designed to put children at ease with friendly, colorful atmospheres and toys, children's television programs, activities, and prizes to divert them. A pediatric dentist office is equipped with child-sized equipment and furnishings that are specially designed for children's safety and comfort. Pediatric dentists and dental staff are trained to be sensitive to children's fears and help them relax. Some children have difficulty relaxing despite the best efforts of the dentist and staff. In these cases, there are a variety of sedation options available to help children get through the necessary procedures without trauma. Children with special needs and disabilities require a variety of special accommodations that pediatric dentists have been trained for and are experienced with providing. Pediatric dental offices strive to build positive associations for children with going to the dentist and most are eager for their return visit.
Where Can I Find A Pediatric Dentist?
Your pediatrician will likely inform you about when it is time for your child to make its first dental appointment. Most pediatricians can refer you to a dentist in your area that specializes in treating children. You can also find a pediatric dentist near you at insurekidsnow.gov or on the website for The American Academy of Pediatric Dentists.
Christopher is a local author and community blogger encouraging others to commit to practicing great dental hygiene habits while working with South Tulsa Dental.