An electric control panel, also known as service panel, breaker panel or breaker box helps to distribute power throughout your house evenly. In this guide, you can learn about the specifications of electric panels and how to find the right one that suits the power needs of your house.
Before you go ahead and purchase Electrical Control Panels for your home, it's best to understand the basic specifications. This prevents you from purchasing components that aren't suited for your needs. Also, check with utility companies or your local authorities to ensure that the panel you purchase meets the code requirements.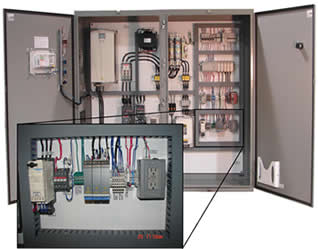 Why must you replace an Existing Electric Panel?
The two main reasons why you may replace an existing control panel are; One if you wish to add extra circuit breakers. Two, if you wish to move from fuses to circuit breakers.
A circuit breaker turns off the power coming into your house when a short circuit or overflow occurs. It protects damages to the wiring of your house.
You have to understand that a new breaker panel doesn't give you more power. If you require additional power, then contact a qualified electrician to upgrade the existing wiring of your house. This will require adding new control panels, cables, an electrical meter and other accessories.
Types of Control Panels
Electricity enters into various areas of your house via, the control panels. There are different types of panels to suit various needs.
Main Breaker Panels – These have an inbuilt breaker that can cut off the total power supply to your residence. It is usually a double circuit breaker that limits the power coming into your house. It can be installed at locations where the feeder cable and electric meter are within a radius of ten feet of the panel.
Main Lug Panels – These do not have the main breaker, but the wires are connected to lugs. This makes use of a separate disconnect.
Sub-Panels – These panels are used in places that require multiple circuits. Especially in commercial and industrial locations like warehouses, greenhouses or workshops. Sub-panels do have a separate disconnect and are powered by a circuit from the main panel.
Deciding on the Amps Required
Electric Control Panels vary depending on the amperage provided and the number of circuits they can accommodate. The amperage is mentioned on your electric panel's main breaker. When you replace an existing panel with a new one, you must either get a new one that has the same amperage as the existing one or upgrade to a higher power if needed.
The amps of older homes range from 60 onwards while newer urban constructions require 200 amps. When you get an electric panel, you must ensure that wires and other components are equipped to handle the amperage of your house. Typically homes require 100-150 amps while newer control panels are also available in 200 or 400 amps.
Check out the Maintenance Required
Before you choose an electric panel, you must consider the maintenance required. Most panels are enclosed in boxes and stay protected from the elements of nature as well as tiny insects and other pests. Panels that can be easily locked and opened are an advantage as they do not let dust accumulate inside.
Before, you decide on Electrical Control Panels, always ensure that it meets the requirements of your local authorities and comply with the norms.