Networking after college is crucial if you want to increase your job prospects. Meeting the right person at the right time could determine your entire future career. This is why it can help to have some tips for networking after you graduate. Sure, you could hit the pavement with your resume and send in applications to various businesses, but you really want to network and connect with people in your industry or field as much as possible. No matter what job you want to do, schmoozing will play a really important role. Here are five helpful tips for networking after college.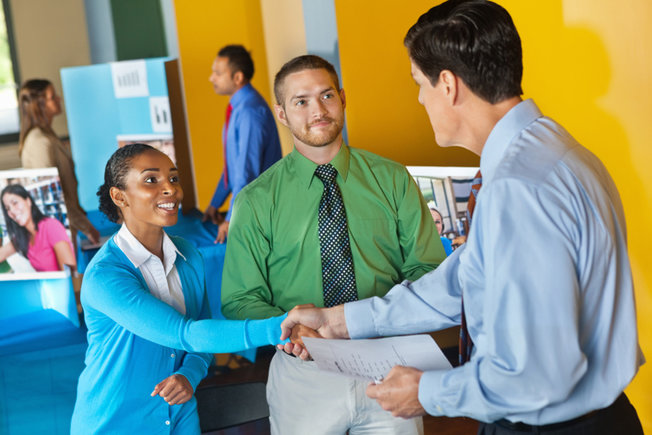 Meet with Your Professor During His or Her Off Hours, or Office Hours
One of the benefits of going to college is that many of your professors will hold actual jobs in your desired profession. For instance, if you are taking one of UC's respiratory therapist programs, your professor may actually be a respiratory therapist. Because of this, he or she may also know of open positions in hospitals or health clinics. This is why you want to visit your professor during office hours.
Find Networking Events Within Your Community
Another great way to network is to find various events in your community that allow professionals to connect. Even if you are five years away from graduating, just getting those business cards can be a huge help. You can stay in contact with some of the people you meet, so that when you do graduate, you at least have a few interviews lined up. You can typically use your web browser to search for networking events and then mark your calendar.
Go to Job Fairs and Other Job Get-togethers
Many colleges have job fairs where employers from all over the country come to search for talented hires. If you are ready to graduate and dip your toes into the job market, this is a great way to get seen and noticed. The best part of these job fairs is that employers come to you, which not only give you leverage, but also a leg up. If there are no other job fairs coming to your college, you may be able to find other industry get-togethers in your area.
Set Up an Online Resume for All to See
There are many websites that allow you the opportunity to set up an online resume. Many of these platforms are socially driven, so it increases your chances that your resume gets seen. All you have to do is list your job experiences and other pertinent information. If you seem like a right fit to an employer, he or she may email you through the platform.
Go Out as Much as Possible and Meet People
On top of everything, you want to go out whenever you can. Just going out will boost your chances of meeting the right person, at the right time. The longer you live in a certain area, the more you will get the hang of where all the hot spots are. In the end, even if you grab one business card, you can call that a networking success.