Photo booth Cork IS a great way to entertain your guests at weddings, birthday parties, and even company gatherings. Companies usually offer a variety of rental packages to select from, depending on the type of event you are throwing, and the types of photos you want to be available to guests. Before you make a final decision on the package you want at your next gathering, here are some things you will want to consider.
1. Is your venue suited for a Photo booth?
While photo booths are a great addition to any event, you will want to be sure that the venue is large enough to accommodate one. If you have booked a restaurant, a hall, or any other hired venue, it is recommended that you ask that venue if they accommodate photo booths. Even if the space is large enough, there may be restrictions you are unaware of.
2. Aesthetic of the Booth
Consider the space of the event in its entirety. You will want to create a custom feel around your photo booth, especially since the booth will take up a significant amount of room. Make sure that the booth fits with the theme of the event if there is one, and think about how it will blend with the overall aesthetics.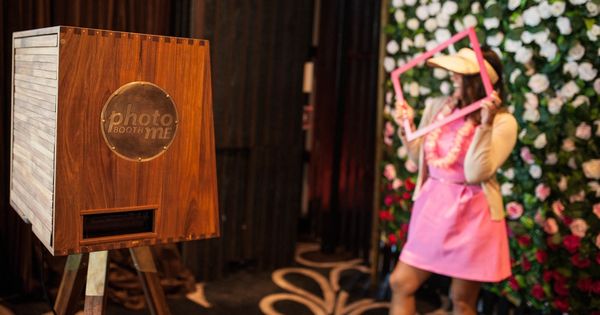 3. Quality/Size of Photos
One of the most important factors pertaining to the booth you choose is the quality of the memories you will be giving your guests. You most likely want high-quality photos that will last a long time. Besides that, consider the size of photos you want your guests to have. Some companies even offer packages with USBs, so that you can have all of the photos that were taken in the booth.
4. Does the Photo Booth include Props? Are they Appropriate?
Guests who use the photo booth at your event will usually be expecting a set of fun props. However, depending on the age of your guests, and the occasion, you may want specific props to be available. Be sure to enquire about the various options each company has; many times, you can request specific pieces without issue. Consider the theme or occasion: are there more children than adults? Are there funny memes you would like? Are there any costumes you think your guests would enjoy? While companies will have many options for you, you should also consider creating some props on your own. This custom touch will excite your guests, and at the end of your gathering you will have hundreds of good memories to create other projects with.
5. Costs
At the end of the day, cost is always something we keep in mind while planning the budget of an event. Because there are so many companies offering photo booths, you can be sure that the prices are competitive. Remember that most companies are renting to you by the hour. You can customize the time you would like the booth is dropped off to ensure that your guests are not busy enjoying other attractions while you lose money on an unused booth.
Shop around to find the perfect fit for not only your price range, but for the props offered and photo size options. Your guests will love taking memories home, and you will be able to look back on the event you successfully threw for years to come.
Philip Senior is in charge of the top scale path and perspective of Philip O'Neill Photography.
A published freelance journalist from print to on-line, Florin A. enthusiasm is reliable authentic publishing. From the routine knowledge to an incredible remark, F. Aldea usually discovers a method to voice what he sees.