If you are thinking about buying a new kitchen for your home, it is imperative that you follow the tips that will be listed in continuation. These are not your generalized tips, about having a budget or making sure to shop around for better prices. The average person knows that those are things we should do anyway. The list will embark in certain details pertaining to kitchens that will help you decide on the perfect one for your home; perfect and smart.
Thinking about kitchen design
When thinking about the design your kitchen should have, do not go for what is "in". It is better to get a minimalist, modern, or rustic design. This will make replacement parts easy to find and it is a style that will never go out of date. On the other hand, if you were to select a design that is only a fad at the moment, in a few years, it will be hard to make repairs. This is because fads come and go, so parts that can match your design would be long gone. This is also true when picking kitchen colors. I'm not saying don't go for that ruby red; just be aware that you might not find ruby red parts in ten years' time to replace the broken or worn down ones. Renovating or buying a new kitchen is very expensive, so pick a design that you can live with for many, many years to come.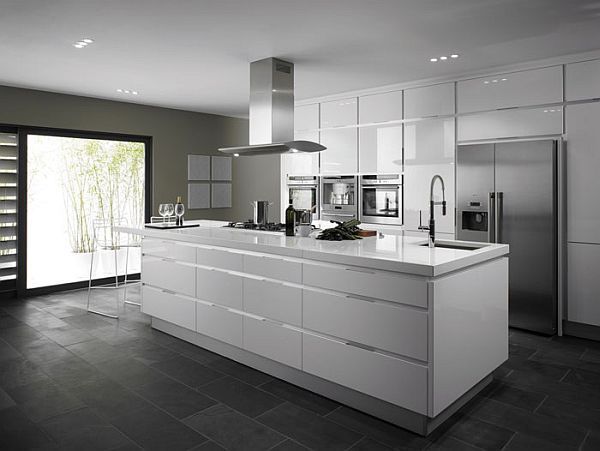 Gadgets and Appliances
There is an endless selection of kitchen gadgets, especially with the advance of technology. You need to be practical with the gadgets you will actually use and not go overboard buying things that are "cool" but will serve you no purpose. The amount of gadgets and appliances you require depends on your culinary skills; some will need a set of blenders and others can go by with a standard one. If possible, do not investigate possible gadgets you can purchase, it will only make you want to buy them all. Stick with the ones you know and use.
Kitchen appliances (refrigerators, stoves, dishwashers, etc.) should be bought first before having your kitchen built unless the contractor constructing your kitchen also offers you appliances that will fit nicely at a discount price. Ask your contractor if these types of kitchen packages are available. If you first build the kitchen cabinets and furnishings, they will normally leave the spaces for appliances in a standardized size. That will limit you into buying standard sized appliances. Some will be okay with those shopping restrictions while others will have a meltdown. Choose depending on your preference.
Building materials
Ask about innovating materials that will make your new kitchen sturdy and give it a beautiful finish at the same time.  A popular material to look into is Corian. There are extensive uses for distinct materials that will give your kitchen a modern and sophisticated look, if that is what you are after. You can go to home exhibitions to get better ideas and more information on current resources for kitchen-building. You can find scratch-proof and seamless surfaces, along with many other possibilities. Having experts assess and mold your ideas will prevent any regrets afterwards.
The great thing about starting from scratch is that you can design it however you want. The most important thing is that you are comfortable and in love with your kitchen.
F. Aldea is known as a freelance article writer and foodie whose work has been highlighted in personal blogs, websites, publications, and TV advertisements.