Digital signs are fast becoming ubiquitous to supermarkets, retail stores, and fast food joints. They can entertain, educate and enthrall customers inside stores, in the parking lots and beside highways. Digital signage is crossing the boundary of limitations. You have possibly spotted one earlier today at the subway station or in the mall. Their plastic nature allows a myriad of businesses to employ them as their preferred medium of advertising and marketing.
Businessmen find green in these digital displays and rightfully so. Most digital signage campaigns start with a one-time investment, which makes it much easier for smaller businesses and startups. You simply need to purchase or hire the LEDs and LCD screens with a one-time deposit. You can always modify the content according to different offers. We have seen most stores go with seasonal content to welcome the crowds of holiday shoppers. We have also seen restaurants and food businesses run with health tips, interviews, and exciting recipes on a regular basis to keep their customers riveted throughout their time inside the establishment.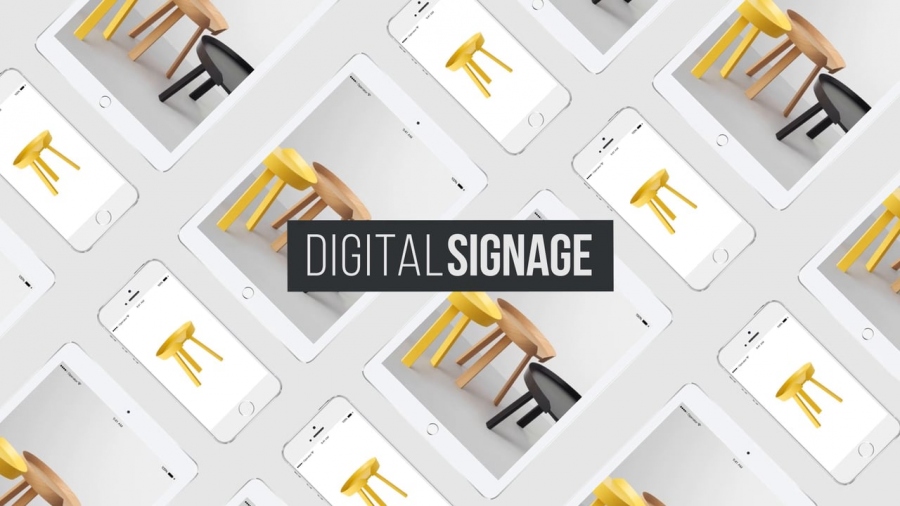 Here is the crucial thing you must remember before you take a plunge into the world of digital signs –
Maintain parity between your digital contents
You may have two monitors or twenty inside a store; the key is to maintain a common factor between the contents of the displays. Recently, we conducted a study, a store with huge LED screens on all walls created a much more immersive effect when it played the same content in sync. For some LEDs in such proximity, different information-rich content on each screen can create discord and distraction.  
There are many small businesses, which source their digital signage content from their websites directly. This is very smart if you have an e-commerce site as well. When your customers leave your brick and mortar store, they do not forget you. They can always return to your website for shopping. Try to stream product information, collections, special online offers and discounts directly from the site. This will provide the necessary incentive most people need to visit any website. Do not forget to provide a QR code and URL for quick transitions to online media!
How can businesses make direct cash from digital signage?
The digital signage content will depend on the kind of small business you are running and the type of customers you are targeting. Nonetheless, the initial investment for the screens does not change. If you are worried about making the initial investment (which can be quite formidable for startups and new businesses), you can always opt for a few additional ways to boost your cash inflow –
Start third-party advertising
Most retail stores have different brands in-store. You can start advertising for the makers of the products inside the store for some extra cash. You already have the raw material you need. You just need to get a copy of their digital media files and include them in your digital media database.
Aside from using these massive LED and LCD screens as business signs,you can also use them for in-store promotions. First, identify the areas in your store where these ads will run well and then select a few screens to showcase their content. This will save a couple of monitors for your store ads too, and it will help you target your customers better.
It is always cheaper than complete renovation
We have seen so many stores in desperate need of a renovation opt for digital signage. A little fix-up and some imposing LED screens to cover those boring walls, and they are set to rock a new look at minimum cost. The LED screens can light up the ambiance and give your business a more suave look. In fact, to change the look of your store, all you need to do is change the display on the monitor.
The best part is – you can even keep the storefront lit up at night. LED does not consume a lot of electricity and you can attract a lot of attention at little cost. You can not only use your own brand content 24*7, but you can also stream live sports, news and weather forecast with your brand logo to draw attention to your store. Do not shy away from showcasing events like music concerts, movie premiers and theater events to draw the attention you deserve. This works best for digital screens outside stores. When it comes to in-store displays, try and stick to your in-store brand content, stories, and relevant topics to keep customers moving in the right direction.  
Give a digital spin to your story
Companies usually pick TV stations and radio stations to broadcast their ads. Primetime TV can cost quite a pretty amount, just like popular radio channels. Digital signage is more of an investment than an expense. You can not only air your digital content whenever you please, but you can also edit the content as per your requirements.
You can place the screens wherever you like. Usually right beside the entrance of the malls and near the foot of the escalators are competitive areas for digital signs. Your annual sales can jump up by 10% within a year if you simply have your placement right. Investing in quality digital signs eliminates the uncertainty of advertisement spot booking and post-airing analysis. Digital signage aids direct conversion.
Digital signage is the ideal tool your business needs to reach out to thousands at a time. Be it at the airport or bus station; you can now find your niche customer without much ado by simply screening your chosen content. Behind every digital signage campaign success story, there is a selection of smart content. Always remember who you are, what you are selling and to whom you are selling before you embark on your digital signage journey.
Author bio: Karen Anthony designs templates for business signs and digital signage. She believes in the power of personalization and content to create a dent in the already overcrowded world of digital marketing.