Cycling has numerous health benefits associated with it like body muscle building, maintaining cholesterol level eliminating chances of heart attack and more. Therefore all such major benefits have attracted people towards indoor cycling workouts. Indoor cycling has been made possible with the help of spin bikes. A spin bike is a compact equipment that lets you have a cycling workout at home without going to your local gym. Among numerous spin bikes available in the market Keiser M3 Plus is one of the most cost effective equipment that carries a large number of exciting features. This spin bike is a production of the brand Keiser that is one of most renowned fitness equipment manufacturers based in USA, dedicated to offer health conscious people with magnificent and high performing health and fitness equipment. Here is the complete information about all the features offered by Keiser M3 Plus.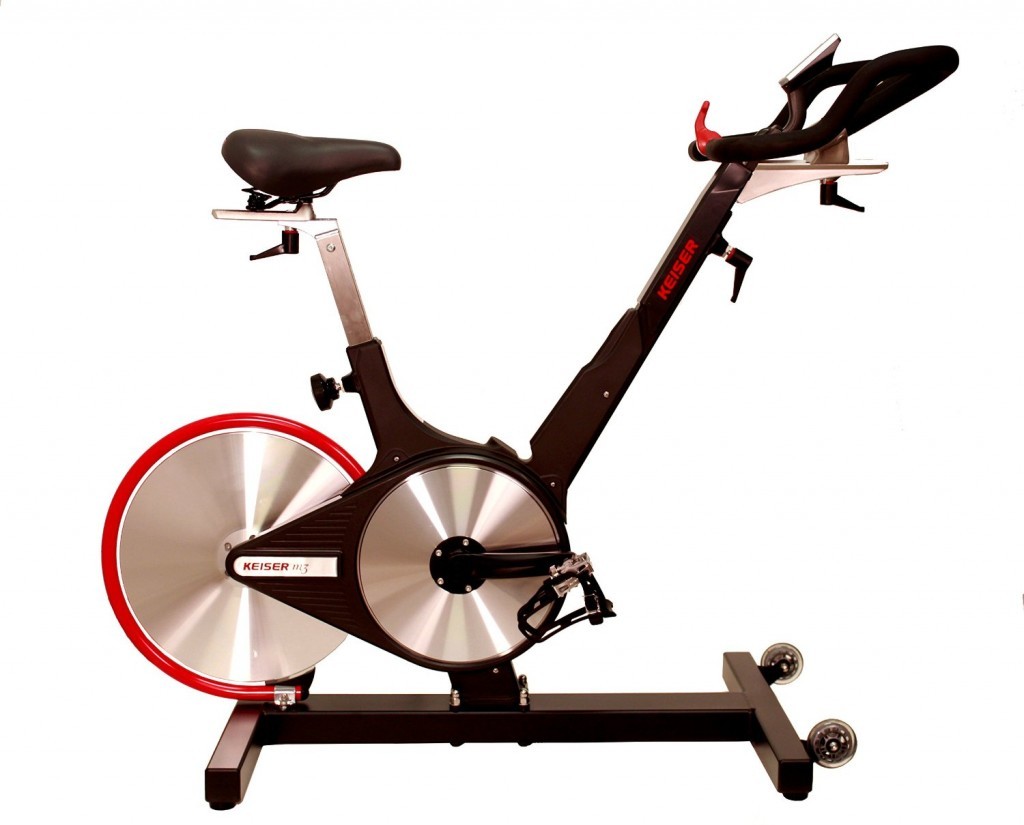 An Overview of Keiser M3 Plus
The Keiser M3 Plus is an addition to Keiser's M Series line of cycling equipment. This indoor cycle is also referred to as a spinning bike since it closely matches in nature to real cycles. This closeness to real bikes makes this Keiser M3 Plus give user a very similar exercise experience. This is one of the highest quality indoor cycles available in the market.
Dimensional Features
The dimensions of this Keiser M3 Plus consist of 44.5 inches of height, 25.75 inches of width and 48.25 inches of length. This indoor cycle comes assembled thus it saves your time and efforts needed for assembling.
Weight
Keiser M3 Plus indoor cycle weighs 85 lb and can easily bear a user weight up to 300 lb. Thus an average man and woman can comfortable workout using this functional and high performance spinning bike.
Adjustable Handlebars
Keiser M3 Plus comes with adjustable handlebars. Thus you can adjust these as per required level of comfort and workout position.
Adjustable Seat
Along with adjustable handlebars, its solid, foam-padded seat is also adjustable. This firm and wider seat makes you feel comfortable while workout so that you can have convenient exercise.
LCD Screen
LCD display monitor carries by this Keiser M3 Plus indoor cycle displays all the details about your workout session. The parameters it displays include, RPM i.e. revolutions per minute, power out displays, pedaling time, heart rate, gear, trip distance or odometer. Thus you can easily keep track of your workout routine.
Magnetic Resistance
Keiser M3 Plus indoor cycle features a magnetic resistance that helps it function quietly while your workout session. A magnetic resistance is rare in indoor cycling bikes but this added feature makes it quite unique.
Levels of Resistance
The magnetic resistance offered by Keiser M3 Plus indoor cycle offers 24 different gears which help you to set appropriate resistance level for your exercise. Also its magnetic resistance requires comparatively less maintains than mechanical resistance.
Bottle Holder
While cycling it is obvious that you will need plenty of water to drink. So to facilitate your workout in most convenient way it this indoor cycle also carries a bottle holder that lets you keep water near you while exercising.
Warranty
Keiser M3 Plus indoor cycle comes with a 3 years warranty on its parts which reflects strength and reliability of this equipment.
Cost
With all the complete features this Keiser M3 Plus indoor cycle costs you a total of $1795 which is quite promising for most of the people looking for a budget friendly indoor spin bike.
In other words we can say that this Keiser M3 Plus indoor cycle is a must have spin bike specially made for your home workout needs.