India has abundant reserve forests, national parks and sanctuaries dotted all over the country, and wherever you may be, you can be sure of finding one within a reasonable distance. Due to historical reasons and because of special efforts by the tourism boards of some states, a number of national parks have become highly sought-after by tourists. However, there are many other reserves and parks that have an amazing variety of flora and fauna, yet have managed to stay largely unexplored by the masses. A quick look at what you can enjoy at some of the lesser-known wildlife destinations: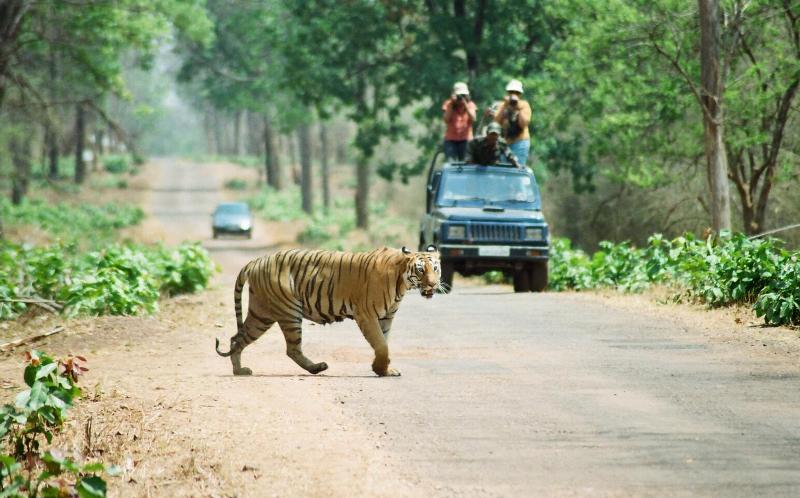 Tadoba-Andhari Tiger Reserve:
For all wildlife tourists who think that their adventure would be a complete loss in case they have not been able to spot the magnificent Royal Bengal Tiger, the Tadoba-Andhari Tiger Reserve is where they should head to. The tiger reserve has one of the highest densities of tigers in the country but is yet to become very popular with tourists as there is not much awareness about it. With 64 tigers in its 635 square kilometers this tiger reserve in the Chandrapur district of Maharashtra offers perhaps the best chance of spotting the king of the jungle. With the help of the very knowledgeable guides there, tourists can also get to see leopards, Rusty Spotted cats, sloth bears, gaur, and a huge assortment of various kinds of deer and over 195 bird species that include honey buzzards, crested serpent eagles, paradise flycatcher, jungle fowl and many more. More information about tourist facilities and attractions can be found by visiting tigersheavenresort.co.in.
Pilibhit Wildlife Sanctuary:
Located in the foothills of the Himalayas in the state of Uttar Pradesh, Pilibhit Wildlife Sanctuary lies in the Terai region on the border of India and Nepal. The sanctuary that straddles the districts of Pilibhit, Lakhimpur Kheri and Bahraich is one of the 41 Indian tiger reserves. Apart from the tiger, the sanctuary is home to more than 120 animal species, 500 types of birds, and an amazing 200 kinds of flowering plants. With this sort of bio-diversity, it is undoubtedly among the best places to explore the Terai grassland eco-system.
Bhimgad Wildlife Sanctuary:
Situated in the Western Ghats in Karnataka's Belgaum district the lush vegetation of the Bhimgad Wildlife Sanctuary offers an astonishing opportunity for tourists to explore the regional biodiversity. Accorded the status of a wildlife sanctuary as recently as 2011, the subtropical and tropical forests as well as the grasslands of this sanctuary are home to leopards, foxes, sloth bears, wild dogs, gaur, and spotted deer, among others. Tourists also can see the Barapede Caves that are famous for being the sole breeding grounds of Wroughton's free-tailed bat.
Nagzira Wildlife Sanctuary: 
Situated in Maharashtra's Bhandara and Gondia districts, Nagzira Wildlife Sanctuary's exotic wildlife and vegetation get an added allure due to the immensely striking geographical features. It is among the best sports that tourists can hope to visit to enjoy a wildlife tour. There is a large population of bison, wild boars, sloth bears, sambar, chital, spotted deer, mouse deer, barking deer, nilgai and if you are fortunate enough you can also spot tigers and leopards. 166 species of birds, as well as 36 of reptiles, provide a lot of variety to the tourists.
Kumbhalgarh Wildlife Sanctuary:
The Kumbhalgarh Wildlife Sanctuary lies in Rajasthan's Rajsamand District and is spread over 578 km2 across the Aravalli Range. The sanctuary also falls partially in the Udaipur and Pali districts. Named after the historic fort of the same name, the elevation of the area varies from 500m to 1300m and is the ideal abode for a large assortment of flora and fauna, including some highly-endangered ones. Tourists get to see a great diversity of animals such as leopards, wolves, sloth bears, jackals, hyenas, jungle cats, nilgai, chinkara, chousingha, and sambhar to name just a few. The avian life includes the shy and elusive grey jungle fowl, parakeets, red spur owls, grey pigeons, golden orioles, white-breasted kingfishers, bulbuls and much more.
Author bio: June Somers is a renowned architect and interior decorator specializing in eco-friendly structures. She has designed a number of tourist facilities in wildlife sanctuaries all over India. See some of her designs at tigersheavenresort.co.in.