You may have memories of a parent or grandparent baking delicious creations with seeming ease, but when you tried your hand at the family recipe for cookies, it ended in disaster.
Fresh pastries from a bakery make excellent gifts, are perfect for breakfast or afternoon snacks, and above all, are the ultimate in comfort food. It's no wonder that they are eaten in cultures and cuisines around the world! These are some of the world's most famous pastries, many of which can be found in your local bakery.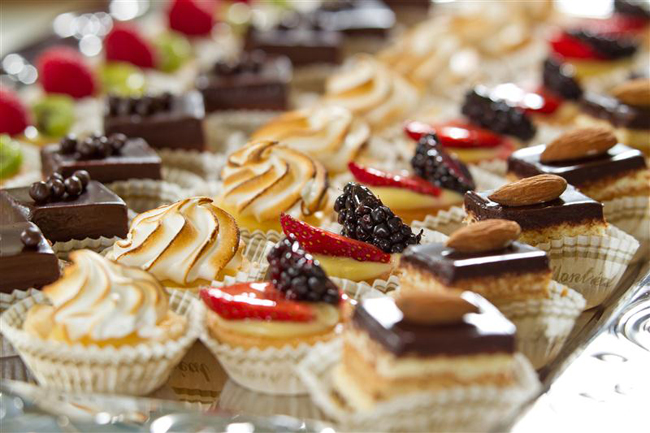 Éclair:
Who doesn't love some cream and icing? Traditional éclairs are thin pastry dough topped with icing that contains a cream inside. They've taken on many new forms with experimental bakers, but remain one of the most beloved pastries in the world.
Macarons:
These classic French cookies are simple but have seen a recent surge in popularity, with creative fillings and designs that compliment their delicious taste. Bakeries like the world renowned Amadeus Patisserie has turned macarons into a verifiable art form.
Cannoli:
This Italian dessert pastry is made of fried dough in a tube form that is filled with cream. Traditional forms usually had a filling made from ricotta cheese, but there are countless variations.
Apple Tart:
While they come in many versions, the apple tart may be one of the most popular, as it is quintessential American counterpart, apple pie. With a pastry on top and on the bottom of a sugary apple filling, variations on this favourite are sometimes topped with cheese, ice cream, or whipped cream.
Baklava:
Originating in Turkey, this pastry is richly sweet, and is made of layers of pastry dough filled with a mix of honey and various forms of chopped nuts.
Croissant:
Another classic French pastry, croissants can be found nearly everywhere, from the local bakery to the interstate gas station. That being said, a real croissant is a far different experience from those that are pre-packaged. With a history dating back to around the 13th century, the crescent-shaped pastry continues to be one of the most popular around the world.
Linzer Torte: 
This Austrian pastry looks like a small pie due to its recognizable lattice top, but is a bit crumblier in texture. Typically, they are filled with a fruit jam in addition to a variety of ground nuts.
Mille-feuille (Napoelon)
This three-layered puff pastry includes fillings of cream between the pastry, and is typically topped with an icing, fondant, or with confectioner's sugar. Other variations of this popular pastry include substituting the inside cream with jams or custards.
Profiterole (Cream Puff)
Rounding out the list is the profiterole, also known as a cream puff. It's simply a ball of pastry dough that is filled with cream inside, often topped with chocolate sauce, or simply with some sugar. While a whipped or pastry cream was the traditional filler, hence the name, these are sometimes filled with ice cream, making a delicious sweet treat for people of all ages.