Are you looking for the extravagant wedding centrepiece ideas? I'm pretty sure you'd be thankful by the end of this article.
Just as the bridal dress, flower arrangements impact the style and feeling of the wedding ceremony. Flowers symbolises the love and passion between the wedding couple. Therefore, it becomes indispensable to add a splendid collection of the flowers to the decoration of wedding.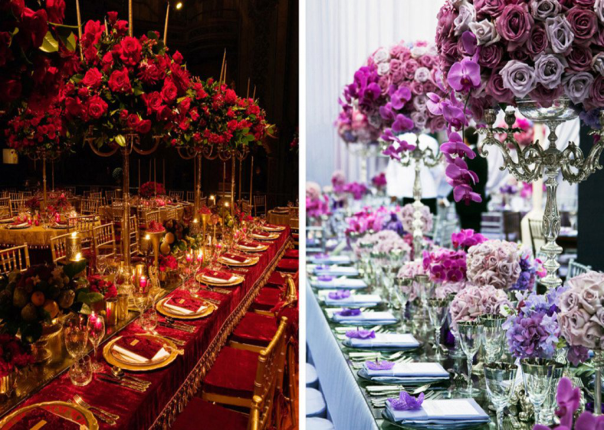 Whilst decorating, flower arrangement is a crucial component of any wedding. Especially designing a centrepiece can be tough, but these ideas break down that makes them idiosyncratic. Before planning ahead for a centrepiece, sneak-peek into the points listed as under and make best of the choices.
Traditional Mix
Combine various types of flowers with varied colours and texture such as Roses, Calla Lillies, Tulips and other flowers. This bright mix of eye-appealing colours looks beautiful in an opaque white vase. This centrepiece helps in attracting the attention of the audiences at large.
Soft Delicacy
Imagine the wonders which a soft based colours enhancing an entire look of the wedding theme. Simply combine soft, muted, pink and off-white hues as a bouquet and place it on the centre table. You can use tulips and roses for this one.
Vivid Centerpieces
For a modern appeal, insert vivid coloured blooms to pop out from the entire ceremony. Create an ombre effect using native succulents, fuschia orchids and lisianthus in a ceramic vase. This centrepiece would be best if you wish to stand out centrepiece.
Lush
Fuse varieties of the blossoms in a transparent vase to flatter ultimate magnificence. This kind of centrepiece can be designed by using florals such as dahlias, dusty miller and much more. Also, one of the easiest way to prepare for the centrepiece is to order in bulk and get online flower delivery at your doorstep.
Tinge of Autumn
Autumn brings in bold colours which can be added in the centrepiece. Make a centrepiece with autumn-hued blooms using gold pedestal vases including roses, ranunculus, hydrangea. This centrepiece portrays the boldness and passion of the couple.
Strawberries and Flowers
Few people dislike the three-tiered centrepieces which don't allow to the guest to have a table conversation. In that case, a centrepiece of the strawberries and flowers proves to be the best choice.
Simply pick your favourite design and assemble the strawberries and flowers. Don't forget to fill the cup with water to maintain freshness of flowers and strawberries both.
Orange-Hued Centerpiece
A table of four, guests having a deep conversation on a table and a bright centrepiece of florals simply stands out above all the flower arrangements. Incorporate flowers of the varying orange shades and gleam your wedding ceremony as never before.
Simple Centerpiece
Simplicity is the ultimate sophistication goes very well with this centrepiece. Select colourful blossoms that contrast the bridal bouquet and make a great combination with the rustic types of furniture. This centrepiece is perfect for the wedding in a bright daylight.
Inspired by Vintage Style
Pick a golden pedestal vase and fill it with all of your favourite bold coloured blooms to create a vintage style centrepiece. This type of centrepiece never goes out of trend and are loved by many people.
Vintage style centrepiece won't only look classic, but also it would perfectly complement other flower arrangements.
Pastel Centerpiece
Pastel hues of the flowers describe the calmness. If you love peace and calmness, then I'm pretty sure you'd love this centrepiece. A brass pedestal vessels of stock, roses, ferns goes perfectly to design a pastel centrepiece.
Closure
Time changes and so does the fashion of flower arrangements, but it is pretty sure that the above-mentioned styles would be evergreen. Grab a style from these centrepiece ideas and flatter the elegance of wedding in the most memorable way.