The video call was born in 1936, with a closed circuit of television established between the German post office, Postzentralamt Reich, and other cities, although it was not until the decade of 1980 when the digital networks of telephony transmission were established definitively, ensuring a Minimum acceptable speed. Finally, over the next decade, IP-based video conferencing became possible, with more effective video compression technologies, enabling video calls from personal computers.
Today, most people have made a video call for both personal and professional issues. For some years, we can realize them from our mobile phones, with any 3G connection that we have. More and more applications offer these services to its users, although for many there is a great way to go for them to offer optimal quality.
WhatsApp is a widely popular instant messaging app with its secure and convenient messaging service. However, after Facebook acquired WhatsApp, users have been worried that their personal data may be shared in Facebook. Many of them have given up whatsApp and have been looking for WhatsApp's alternative applications for their phones. This article will list five popular and secure alternative messaging applications to WhatsApp.
ezTalks Cloud Meeting
ezTalks Cloud Meeting is one of the best WhatsApp alternatives that are becoming increasingly popular and used for both business and personal reasons. It offers the best instant messaging and video conferencing call service in a very high name. If you are interested in highly specialized group video conferencing calls, ezTalks Cloud Meeting is undoubtedly your best choice.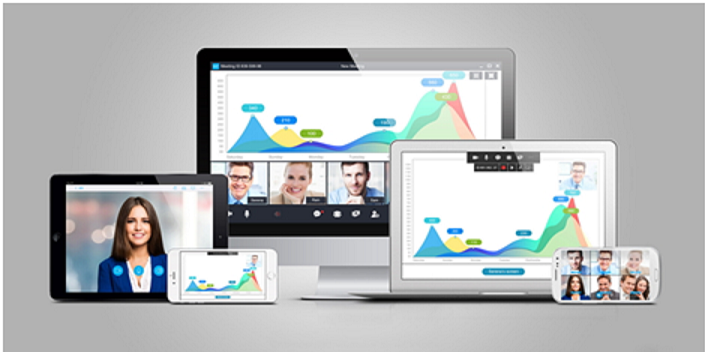 You can choose its free version which enables you to host a group video conferencing call with up to 100 people to participate, but if you want to invite up to 500 people, you need to spend a small sum of money to upgrade to its paid version and enjoy the most amazing service. To make your video conferencing call effective and efficient, this WhatsApp alternative provides you with many useful features, such as HD video, crystal audio, easy screen sharing, online whiteboard sharing, instant text messaging, meeting scheduling, meeting recording for playback in the future.
Skype
This alternative to WhatsApp does not need just presentation. The giant of communication between devices is one of the main spearheads in terms of innovation in video calls is concerned, achieving a quality more than acceptable for some time. Skype makes it possible to make voice calls, or Skype video conferencing calls among users, regardless of the countries in which they are. In addition, this WhatsApp alternative is also possible to use the platform to make calls to a conventional telephone, with very different rates, depending on the country of the recipient of the call. Available on virtually all known platforms and operating systems, Skype was founded in 2003 in Escadinavia. Since then it has undergone a multitude of changes of ownership, until finally the giant Microsoft seized it in 2011, for 8.5 billion dollars. In addition, this was the date in which the well-known Windows Live Messenger disappeared, being finally replaced by Skype.
Facebook Messenger
The most used social network in the world already has its own system of video calls among its users. The main features offered by this alternative to WhatsApp are speed and simplicity, since we can establish the video conference with anyone whom we are already chatting with the push of a button. Although the system began testing in a number of countries, it has been available for more than a year for the entire world, with complete interoperability between devices and operating systems.
During the video call, Facebook Messenger offers us the possibility to disconnect both the camera and the microphone at any time, as well as to use any of the cameras that come integrated in our smartphone. It is perfect if we want our interlocutor to see in the first person what we are seeing ourselves. With this decision, Facebook Messenger entered directly into a wild competition with other companies such as Skype or Viber. In addition, and since the colossus of social networks took over WhatsApp, it is expected that very soon the instant messaging system will have its own video-call service.
Viber
This was for many the first application that allowed to make international voice calls without an additional cost to the users, using only the Internet connection of your devices. Although this WhatsApp alternative has had some criticism due to the little respect it has to the right of privacy of its users, without a doubt it has become one of the most important messaging and video call applications.
Viber was launched on December 2, 2010, for Android at first, and was positioned as direct competition from Skype from the beginning. When, in February 2014, Rakuten announced that it had acquired Viber for 900 million dollars, the application already had a complete and stable service of calls and video calls. Recently, Viber has joined the cart of end-to-end encryption, following in the footsteps of WhatsApp, and thus closing the controversy that was chasing him in privacy. It is true that this alternative to WhatsApp application has not published details about how this encryption is implemented.
Hangouts
Hangouts is another WhatsApp alternative that does not need the presentation. The heir of Google Talk is already known by almost everyone, due to the dissemination of content that has been made through its system, and the optimal quality of its services. One of the things that stands out most is to allow Google group video conference calls, making it possible to hold authentic conferences, and alternating the 'main camera' automatically according to where the voice signal is received. As an added note, sure that likes many apps, Hangouts allows to send GIFs, in addition to emojis, the locations of the users.