We have plenty of reasons to install security camera system in our home. Some of us need to keep a watch to ensure the safety of our valuables, property and whether our employees are working honestly in the office or company. We also install the camera as per the individual needs. As we have various security camera system available in the market, the right choice will help us the secure everything as we want.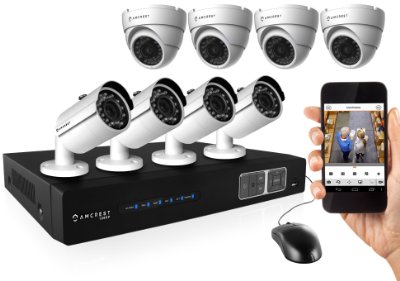 How can you differentiate an IP camera from Analog one?
IP – Internet Protocol and it simply means that data can be sent and received from a digital network and a digital camera that works this way is called as an IP camera. There are a number of benefits of using IP cameras. Such as:
Picture Quality – Even the best analogue camera for surveillance is shamed away by the lowest kind of IP cameras when it comes to the image resolution. Analogue cameras offer a resolution that is half to a megapixel while the IP cameras come in 1,2 or 3mp configurations. This way you will get a quality picture. Moreover, it captures wider area and can be used instead of 3-4 analogue cameras.
Video Analytics – With this feature, you can easily analyse those flag events occurred during the process. This can be like tampering with the camera, motion detection, finding specific people, etc. So instead of wasting hours to find that event, it directly gets you there.
Scalability & Flexibility – In the old school cameras, they were connected to DVRs. Today, IP cameras are connected together with a switch and through the switch, they are connected to an NVR. This way more cameras can be connected that too with less wiring.  The best thing about this camera is that you can connect maximum cameras through PoE.
PoE security camera system allows you to connect more cameras to a single NVR and works as a switch. Multiple PoE acts as ports that help you connect more cameras on the NVR.
Different types of IP cameras
You can find a wide variety of IP cameras in the market. Some of the known types are:
Box Camera – It is a box camera that is used to monitor a fixed location. You can easily zoom in the recordings with this type of camera. The camera comes with no lens.
Indoor and outdoor dome cameras – The cameras are equally good for day and night vision. The lens can be pointed at different directions manually. The outdoor cameras are waterproof and vandal proof which means they can withstand any unforeseen accidents.
Bullet Camera – Like the dome cameras, they can also be used to point to specific locations. They come with amazing zoom-in capabilities. They are tough to hide and comes to people's notice. They are used outdoors too due to their waterproofing features. But unlike the dome cameras, you can easily know where they are pointed and what is captured. The drawback of the camera is that it is more susceptible to attacks and damage due to the absence of a tough enclosure.
PTZ Cameras – Box camera can help you get surveillance of a region while bullet camera helps you monitor different regions manually. PTZ on the other hand, helps you monitor different places by controlling the camera remotely. This type of camera comes with 10 times digital zoom and 20 times optical zoom as well as an auto pan feature. All these things help to zoom and scan an area properly.
In short, you have various options to select as far as security features in PoE camera system is concerned. All you need to do is to think of all the aspect (your security purpose) and buy accordingly.