Starting a hospitality business?
In the process of renovating your hotel?
Whatever the case may be, chances are you are going to start from the most basic yet essential aspect, housekeeping. You wouldn't want you tired tourists complaining about how there's dust on the window pane or how the bathroom does not have sufficient toiletries, would you?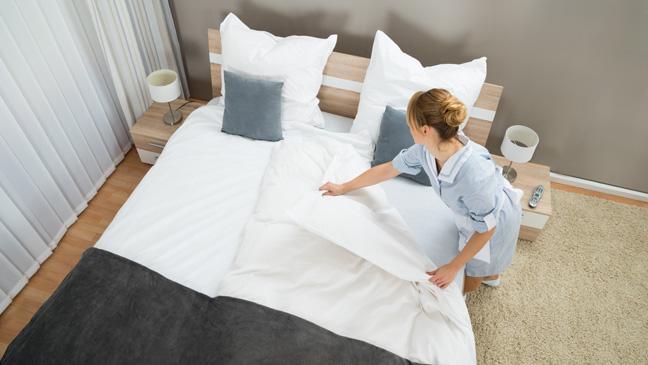 Keeping all the other aspects aside, if there is anything that travelers, tourist look for in a hotel are cleanliness. They make it a point to cross verify with there referrals about how hygienic the hotel they are suggesting is going to be?
In this world of "everybody online all the time," no hotel can afford to tarnish their reputation because of bad online reviews. Travelers check how people have rated their cleanliness meter on various traveling websites, before booking a room. Hence it is essential that the housekeeping department is well-stocked with the necessary and latest cleaning tools and appliances and the team is trained so well, that they do not leave any possibility of mistake on their part.
How can you make sure that your housekeeping is on par and your visitors have only good thing to say about their stay?
Well-trained employees:
You cannot ensure management unless your housekeeping team is well-trained. Housekeeping staff plays a pivotal role in the hotel's revenue generation. Many hotels consider outsourcing agencies that can help in-house housekeeping team perform better like implementing hygienic procedures, dispense customized services to the guests, etc.
Latest cleanliness equipment:
To supplement the efficiency of the housekeeping department, it is essential that they have the right cleaning supplies and housekeeping accessories.  Purchase quality housekeeping products from credible online-stores. It is equally important that you maintain this equipment and check periodically for any damage, which requires repair or replacement.
Smart-work:
One way of improving efficiency and utilizing the resources optimally is to be meticulous with how do you work at the back-end. Use electricity in non-peak hours, Delegating responsibility per the person's capability can help maximize productivity.
Stay relevant by embracing technology:
Similar to other departments in the hotel industry, technology can help streamline and enhance the efficiency of your housekeeping team. Implement such technology solutions that will facilitate better communication within the housekeeping team as well as among various departments such as housekeeping getting real-time information from the front desk on arriving and departing visitors. Manage deadlines, VIP visits via online apps, planner and online calendar.
When it comes to hotels, first impression matters and it stays throughout. A well-trained team, the right set of tools and equipment, excellent management result in an efficient housekeeping operation. Stay abreast with how top-notch hotels are working on improving their visitors stay by enhancing their h housekeeping operations. Check whether or not your inventory has all the necessary cleaning supplies and equipment? If not, you can purchase the cleaning supplies, housekeeping accessories; bedroom wall mirrors in bulk on online stores at attractive prices and free shipping over £300. Order today!