Having a good office bathroom is an essential part of office design, but you will need to ensure it is made in such a way that would promote easier cleaning procedures and more. If you implement some of the strategies below, you will finally end up with a great bathroom that feels and looks right, but it will also be much easier to clean and sanitize without becoming unpleasant: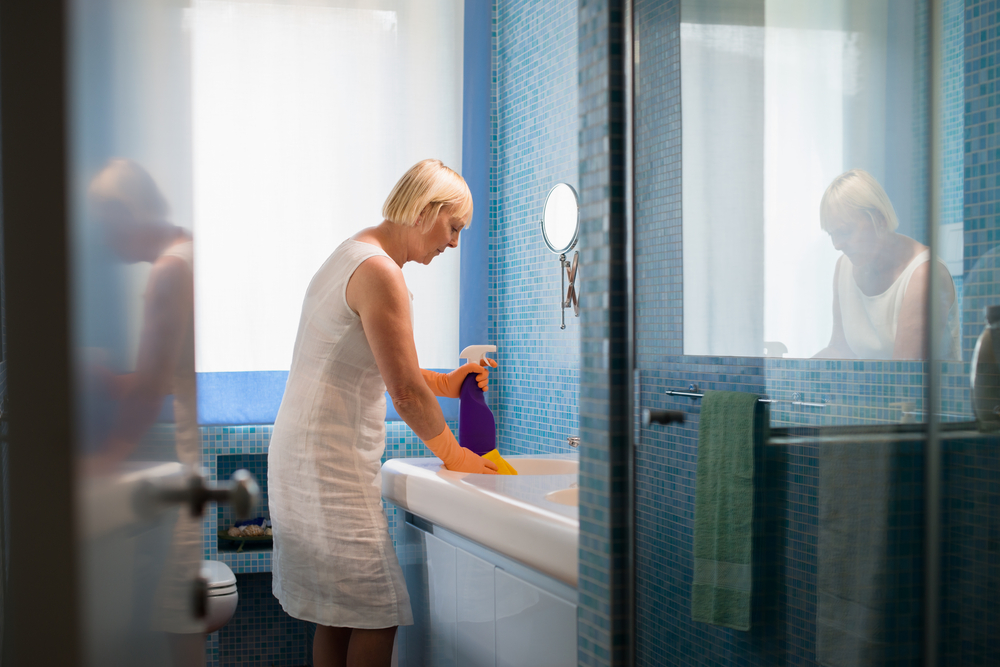 Avoiding grout is a good first step toward making your efforts. Using a good and solid surface for your walls without grout will save you a lot of work in the process. Stone slabs have seam lines as well, but they happen to be really thin and that will make things far easier to deal with, which will make cleaning less of a chore, taking less time to clean and sanitize.
Caesar stone can also be used for a countertop and brown walls, which may be used all by itself or even in combination with normal tiles to create a unique and beautiful effect.
Vinyl wall covers will also create a wonderful solution, as they are not only waterproof, but they have nice patterns and textures you can use around the bathroom, plus they can be cleaned easily with nothing but a sponge.
Back-painted glass is one way of taking care of walls, but it can also be used for counters, especially if you want to keep grout away from the rest of the bathroom.
Certain areas where the walls don't exactly need to be tiled make paint a good option to work with, especially if you use one that has been especially made for bathrooms as it has a higher resistance to mildew and mold. A lot of brands have those; the colors are up to you as you will need to make them fit the overall theme of your office or specific rooms.
You need to make sure you purchase the best and most silent fan you can for your bathroom, putting it on a timer so it will both save power and get its job done, keeping the bathroom dry.
If you simply can't remove all grout lines from your design, you can instead lower the number of them and its thickness as well.
Large format tiles made of porcelain also come in different sizes, all the way up to 24×48 inches, which allows you to make a tight design that lacks grout lines, also lowering the time it needs to be cleaned in general.
Selecting a linear drain will also allow you to use a narrow channel at the base of your wall to allow a slope in one direction, so any runoff water can go right to the drain instead of using the tiles to spread in different directions. An easy solution meant for easier cleaning, but also a bit more expensive than the usual drain solution in most bathrooms.