You must make some changes to the infrastructure of your Gym so that you can make the flow of traffic safer for everyone. You can do everything from changing room outfitting to adding better gym lockers. There are a number of people who will stop coming to your gym if they do not find it to be a nice place to visit. In fact, people who are coming to your gym are counting on both security and functionality in the locker room. Use these three tips to make your gym a nice place to be, easier to manage, and much more beautiful.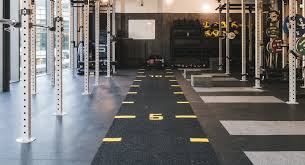 1. Changing Room Outfitting
Changing rooms needs to be created so that people can slip through a swinging door, and you need to be sure that you have enough for the number of people who are normally inside the locker room. The locker room is a place that is more fun to visit, easier to use, and safer when you can slip into the changing room. There are a lot of people who will avoid your gym if they cannot change in private, and you need at least the bathroom stall style room.
You could have changing rooms installed with doors, and these full doors will give your guests a place to hide out while they change. The guests get complete privacy, and they can even lock the door so that they can stay in the changing room for as long as they need.
2. Better Lockers
You can install better lockers in the gym when you want nicer locks, a stronger frame, and something that is bolted to the wall. Older gym lockers are hard to secure because they can be pulled apart easily. Someone could cut the locks from an older locker, but you can use the special keypad and keycopde lockers that open without any locks at all. Someone who wants to break into these lockers cannot reach their fingers around the edges of the locker, and they could not pull open the locker because the whole unit is secured to the wall.
The lockers could come in varying sizes depending on what you think your customers want. Some customers want a locker that will be very tall and thin, but there are others that might need something small and square. You could combine the two styles of locker, and you might even have their laid out in a special pattern. Give permanent lockers to your regular guests, set aside some lockers for visitors, and leave some lockers to the side for large equipment.
3. Better Gear
You can purchase new weights, new treadmills, and new machines that are easier to manage because they are fully-electronic. You could get a new line of machines to set up in the space, or you might want to use newer stair-step machines, new ellipticals, and new weight machines. You can put in better pull-up bars, or you could install special ninja style tools that are meant for people who are into extreme sports.
4. Honorable Mention: The Kitchen
You could put a kitchen in your gym, or you could install a counter that will sell food and drinks to your customers. You could sell smoothies and shakes that are made by a member of your staff, or you could install a fridge that will keep your water cool. You simply need to decide how many of these items people will by in a month, and you also need to be sure that you have hired a nutritionist to help guests if you believe they need some advice.
5. Conclusion
Personal trainers are also a great thing to have in your gym. You can get a personal trainer to take on your best customers, and you could bring in more personal trainers who will bring their own clients. There are many ways for you to make your gym into a great place to work out, and you need to ask yourself if these tips will work in your space. The gym itself will be an easier place to work out, and it will look gorgeous. You want to impress your guests, give them a nice locker room, nice gear, and a relaxed atmosphere.