Why is it that people enjoy sports so much and why is it that they are equally fond of traveling, if not more? What happens when these two are combined? The result is the new type of tourism based on sports. Given the growing popularity of sports tourism, it can be safely said that it is the fastest growing sector of the global tourism industry. Keeping aside the fact that it generates hundreds of billions of dollars each year, it is essential to consider that sports tourism is no longer limited to the rush during prominent events such as World Championships and Olympics. It now encompasses a large number of tourists who pack their bags and head to gain new experiences of playing certain sports that they have always wanted to try out. Certain locations in the US that are especially ideal for sports lovers. Let us explore some of these places.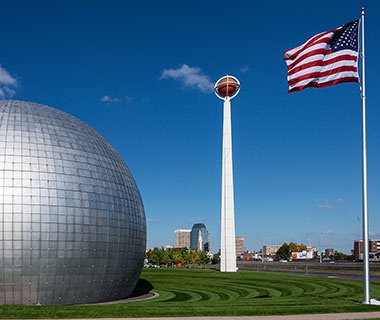 Indianapolis:
Indianapolis is a racer's and a basketball lover's dream destination. Imagine the thrill of getting behind the wheel and taking a high-speed round of one of the most famous racing tracks of the world or visiting the basketball courts, the Hinkle Fieldhouse, where famous high school game was played, and the movie Hoosiers was filmed! To take a break from the sports mania, have dinner at one of the many iconic restaurants where athletes and celebrities have been dining since the 1900s.
Iowa to Illinois:
For a baseball fan, nothing can be better than taking a trip from Iowa to Illinois. Filled with dugout, clubhouse, and press boxes around some of the iconic ballparks of America, this trail is not just filled with heritage and history but also excitement and amazement. Before reaching Chicago, stop for a while at the beautiful town of Galena, IL. It is the home of home of Ulysses S. Grant.
San Diego:
Sunny San Diego is where sports enthusiasts gather for surfing, biking, hang gliding, mountain biking and skateboarding. From youngsters practicing tricks to professionals stunning attendees, this area is abuzz with activities that are sure to make a sports fan happy. If you are traveling with kids, do make time to visit LEGOLAND.
Dallas:
Have you ever wanted to go on an equestrian holiday? Dallas is the place to go to then. Whether you just want to learn how to ride a horse or want a complete horse racing schedule to enjoy watching these magnificent beasts race against each other, you will get everything here. To satisfy that inner cowboy in you, you can also go on a trip through Arizona, Idaho, Wyoming, New Mexico, Colorado, and Georgia.  
It would be wrong to categorize every sports tourist as a casual amateur who is more interested in trying out a new thing than achieving a feat in it. Many serious sports enthusiasts go on these trips to take part in it competitive events. In fact, a sports tourist may be driven by reasons that are anything from competitive to non-competitive, participation to formal, informal to self-actualization and nostalgic.
What activities, adventure opportunities and pleasing experience a destination offers has much to do with how popular it is to sports tourists. As more and more people are taking an interest in this form of tourism, an increasing number of destinations all across the United States and abroad have started investing heavily to provide satisfactorily to them.