Halloween is a tremendously popular fall holiday for people of all ages. The scaring vibes of goblins and ghosts, lighted pumpkins on house porches, costumed ghouls, vampires, and witches bring the atmosphere of celebrating the All Saints' Day. It is the perfect time to forget about your work, burdensome duties, Essay-On-Time, and truly enjoy the holiday spirit. Children anticipate the upcoming Halloween holiday, and parents get ready for trick-or-treating customs their kids are waiting. The process of preparation takes a lot of time, by virtue of sewing costumes of spirits, phantoms, goblins, and other dark power for young trick-or-treaters. But the most important element of preparation falls on parents' shoulders – they have to think and care about the safety of their kids during the celebration.
Here are the list of 5 best Halloween safety tips parents will find useful in trying to do their best for holiday to go safely for children.
1. Plan the trick-or-treat route
The custom of trick-or-treating is very exciting and fascinating for most kids. At night, children walk from house to house, knocking on the doors and saying the famous phrase 'trick or treat?' in order to get a reward – sweets from the neighbors. In the atmosphere of a frightening, but exciting holiday, it is easy to get lost among the houses of more or less similar decoration and blinking lights and go too far away from the neighborhood. To avoid such an outcome, plan the route of the trick-or-treating and make sure your children know the edges they shouldn't cross.
Even if your child is going with other, maybe older, children, find out not only the phone numbers of these children, but also the numbers of their parents, in order to know who and how to refer to in case of emergency.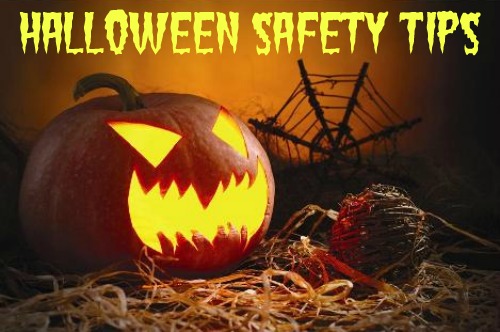 2. Think of comfortable Clothes
Costumes are the big part of the Halloween celebration. Children spend most of the Halloween night dressed up. Thus, it means that the costumes should be comfortable not to harm kids. Parents should take care of the children's clothes and make sure they are warm and comfortable enough; for instance, it would be efficient to check whether the masks they put on do not obscure the vision. If you think of body paint as an alternative for real costume masks, it is better to stick to nontoxic paint. This type of paint does not provoke an allergic reaction of skin and lasts on your face for a long time without any harmful consequences. Shoes should not be underestimated, too, as the trick-or-treating custom considers visiting houses for long distances.
3. Light the way
According to the fact that the Halloween celebration takes place at night in the dark, it is essential to think of a flashlight or any other battery-operated portable lights, with the help of which your children will not get lost in the dark. Another good idea is to use a hang glowing light putting it on your child's bag, hand, or leg. Due to this precautionary measure, drivers could see the kids walking down the street and prevent them from hitting accidents.
4. Trick-or-treat only people you know
This safety tip depends on the place you live in, whether it is a big city, its suburbs, or a little town. But in all cases, it is better to stick to the familiar places and trick-or-treat only those people you know. For example, your kids may knock on the doors of the building you live in or visit some of your friends or relatives. Thus, you may be 100% sure that trick-or-treated people are friendly and welcoming, so you are aware of the safety of sweets your children would get.
5. Protect your Home
Halloween night is all about trick-or-treating story, and while some children are hunting for treats and sweets, others may think of different tricks and pranks. Anyway, you have to be ready to defend your house from possible evil-doers. While most of the people may be out of their houses having fun, think of the safety of your house. Those who stay at home for Halloween night should be ready to hand out sweets and protect the house. Don't get me wrong, you do not need special security systems and bodyguards in the yard of your house. Even if you are home alone, just switch on the light in the other rooms to make people think that there are many people in the house. Be at home and be aware.
Well, I hope that this list of 5 safety Halloween tips will give you some ideas for planning your kids' activities during the holiday while ensuring their safety and your awareness. Have fun!
The post is written by Joseph Sartori.