2018 is just underway, but we are already seeing this year's hottest interior design trends. These include bold colors, natural and reclaimed materials, kitchen makeovers, and water features both ultra-modern and retro. Even with an improving economy, we are also seeing a push towards less expensive, more communal design.
Natural-looking Tile, Reclaimed & Mixed Metal Materials
New, natural materials are out in 2018. We're seeing a prominence of natural-looking materials taking their place. That is a tile that looks like concrete, fabric or wood. We're also seeing tile that looks like wallpaper but brings the added benefit of durability and ease of cleaning.
Reclaimed wood boards, mill-worked paneling, and shiplapped patterning are being used on walls as accent features. Whether in living rooms, dining rooms or bedrooms, this is occurring because of their stylish appearance, inexpensive costs and the ease with which homeowners can complete such DIY projects.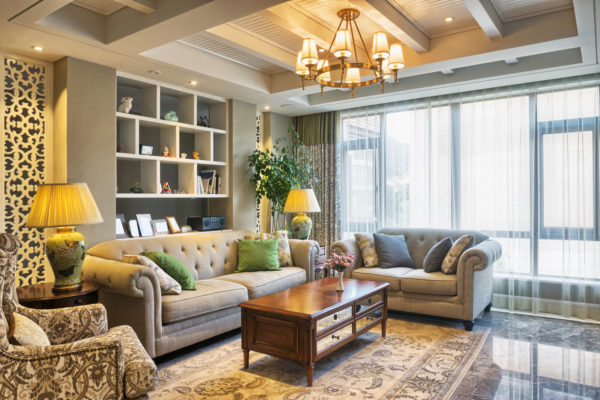 As a counterpoint to wood, we are seeing the blending of metallic elements with different lusters and textures. Rubbed brass with shiny, colored steel or a backsplash with matte tile supporting a high gloss countertop are examples of this trend.
Bold Colors & Earth Tones
Stunning colored furniture, like green, blue or pink couches and sofa sets, are all the rage. These bold elements serve as dual purpose focal points eliminating the need for more expensive decorations. Florally patterned furniture is seeing a renaissance, but not in your grandmother's muted tones. Bold, contrasting palettes of rich golds, teals, reds, and greens, with black and white accents are leading the way.
Paints and wall coverings are moving away from the neutral colors that have dominated over the last few years. We're seeing rich and vibrant earth tones like tobacco, caramel, brown-black, avocado and deep lime.
Kitchen Makeovers
Kitchens are trending towards open floor plans with specific activities and inclusive elements to make it the focus of the house. A sense of separation is being created using built-in cabinetry to mimic the walls that previously separated the kitchen from other rooms. Center islands are falling out of favor. They are being replaced by baking and cutting stations, as well as creating space for full, in-kitchen dining room tables.
Countertop designs are changing, and with them, new sink surfaces are coming into favor. It's not so much new materials that are setting countertops apart. We're seeing new design elements like built-in butcher blocks with drainage furrows and indentations for holding knives and other utensils.
Aided by a shift in kitchen colors from stainless steel and whites to matte black finishes, we are seeing such sinks falling out of favor. Instead look for stone, granite and composite sinks in grays, bronze, and blacks.
Tubs, Showers & Sinks
In bathrooms, we're seeing glass dividers replacing shower and tub curtains. This conforms with the openness we are seeing in kitchens and allows natural light to brighten the room. Shallow pedestal sinks are being replaced by a deep trough or farmhouse styles. These basins have greater durability and expanded functionality to support multi-child homes and laundry duty.
Olivia Lind spends her day focusing on her job as a CPA, but, in the evenings you'll find her organizing and decorating the sets of the local theater guild and helping to arrange showroom floors for one of the largest furniture companies on the west coast. In her free time, she enjoys hitting up the local club scene with her friends and taking extended weekend jaunts wherever her VW bug can take her in a day or two.