Whether with a group of friends or the whole family, white water adventures are a great way to escape the stress of everyday life. There are few other sports that top the thrill of adventure experienced on the water.
Experiences can last an afternoon or several weeks. Regardless, you are likely to have to time of your life, strengthen relationships, and get down and dirty with nature.
Health Benefits
White water rafting is much more than just an adrenaline punch. There are many health benefits to participating in this extreme water sport.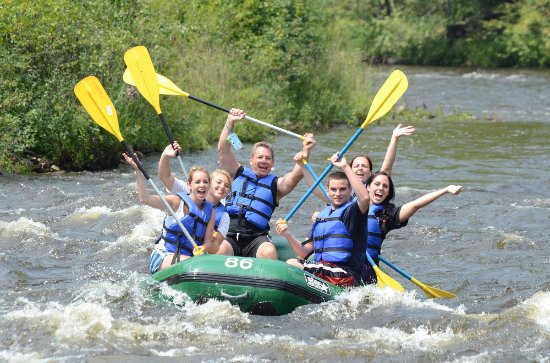 Fresh Air: This benefit should not be underrated. Physical activities in the outdoors allow you to soak up some natural Vitamin D and breath in some fresh air. Studies show that exercising outdoors is great for your overall mental health.
Bonding: When white water rafting, you have to depend on your guide as well as your team of paddlers. You move the distractions of modern society, allowing you to focus on the people around you. You may quickly learn both the strengths and weaknesses of your teammates as well as your own.
Self-esteem: Feeling the forces of nature can be a humbling experience, but it can also do wonders for your self-esteem. White water rafting may seem intimidating at first, but completing a run can leave you with a confidence boost and a feeling of accomplishment.
Adventure: Everyone needs a little adventure in their lives. These types of escapes are great for your mind. They give you an opportunity to explore the natural world in a whole new way.
Cardio: If your heart isn't racing from adrenaline, it will be from the, at times, sustained paddling. The best part is, you won't even notice you're exercising because you are so enthralled by the undertaking itself. Cardio has never been so much fun!
Strength: White water rafting can be a physically demanding activity. It is likely to strengthen your arms, back, and shoulders.
Taking the Family
A family white water rafting trip is a great way to spend some quality time together. River trips have fun, relaxation, and scenery.
Kids of all ages enjoy the excitement of being out on the water (but, it is a good idea to check age limits with the tour company before booking). Longer trips are especially fulfilling because they force everyone to disconnect and share valuable time together. You might be surprised how creative you and your kids become when electronics are not an option.
Many outfitters help everyone have the best time possible. There are many options for active paddling to chill time on the boat. The river is always changing, so it keeps you on your toes.
On multi-day excursions, you will likely camp on sandy shores, eat delicious camp food, take time to explore, and wind down under a starry sky.
White water rafting adventures are one of those experiences you should not pass up. In an overly connected world, you may find that you have an opportunity for authentic connections that are often rare these days. Thrilling adventures are great for the mind, body, and soul.
This article, Colorado's top vacation destinations this summer, was written by Ryan Thomas for Rocky Mountain Whitewater Rafting. Rocky Mountain Whitewater Rafting has guided thousands of whitewater rafting trips on Clear Creek and throughout Colorado.