As winter approaches it will soon be time for us to start making plans for our Christmas and New Year celebrations. It might seem like it is too early in the year to start planning, but just think about how special it would be to bring in the new year with your friends, family and loved ones in a brand new home extension, and under an elegant and stylish roof lantern that allows you to gaze up at the stars above. It could be the perfect way for you to celebrate and bring in 2018.
Improve the Décor of Your Home
An old flat roof extension might have become tired, dull in colour and boring over the years, but by adding a skylight you are instantly adding a sleek design and an element of style and sophistication that will be the envy of your friends. It doesn't matter whether your extension is home to a kitchen, dining area, extra living room, games room or as a space used for plants and greenery, a roof lantern really will add to the sophistication levels. It's certainly a great way to start a new chapter in 2018.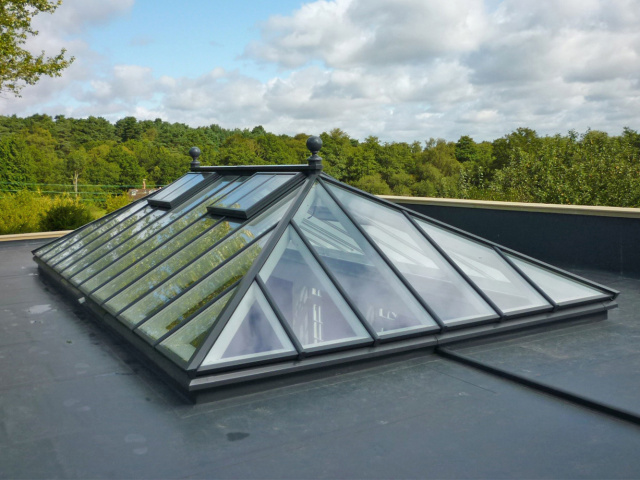 Watch the Fireworks in Comfort
As the bells chime at Midnight on New Year's Eve there will be plenty of fireworks wherever you live to help celebrate the night. Whether you plan to set off some fireworks at home, or watch public displays in your local area, having an extension and roof lantern can help you to see the entire night sky, and if you're lucky to live in an area with plenty of displays on offer it is the perfect way to bring in midnight.
Cut Out the Noise
A glass roof lantern is great at cutting out noise in much the same way that your double-glazed windows shut out the noise of passing traffic and other external noises. At New Year there might be plenty of noise from parties either side of your property, or from large public gatherings in local parks (see New Year's Eve fireworks displays above). Your home extension doesn't have to suffer from external noise, with the glass roof lantern helping to cut out external noise and also allowing you to have a good time without worrying about noise polluting your neighbours!
Looking at ways to bring in the New Year is always a complicated process. There is always a family party to attend, or a close friend's shin-dig, but sometimes all you want is to sit at home with your loved ones, a few family members and a select few friends and use that space in your home that just isn't used enough but always provides a good time. Installing a roof lantern or skylight to a flat roof extension gives you the perfect chance to invite people round and have a proper party to celebrate the passing of another year in style. Sit and relax with a drink in hand and watch the stars go by with the rest of the night sky, with a touch of luxury and elegance.
marc buckley