There are few better ways for seniors to truly get away from it all than taking a cruise. Not only do you leave your worries behind, but you leave the land behind as well. All the comforts of a luxury resort are included on most cruise ships, along with the opportunity to relax in your room, socialize, or soak up the sun accompanied by all that big blue ocean.
Standard cruises are not always the greatest way for seniors to travel. Depending on the makeup of the passengers, the theme of the cruise, and the ports of call along the way, trips can be filled with small children or rowdy partiers who can hamper your enjoyment of the experience.
There's no shortage of specialty cruises advertised every day of the year, but how can you find the best ones for seniors to enjoy? Travel can be tough as we get older, with the strains of going to the airport, sitting for long periods of time while traveling, and enduring delays all taking their tolls.
But with a little Internet research and the use of available resources from travel companies, you can enjoy the same type of senior living experience on the open seas that you do in your day-to-day life: that is, one customized to your needs and your wants.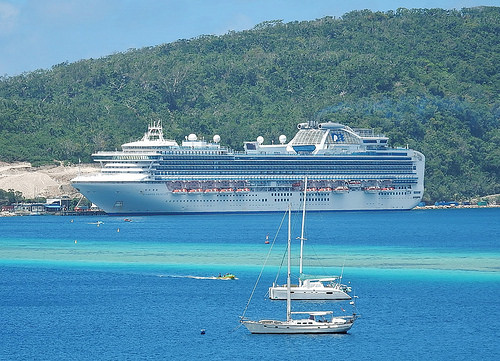 So where should you look when you want to book a senior-friendly cruise? Here are a few of the best options available.
Big Chain Cruise Lines
Big-time players like Carnival understand the different needs of different types of travellers and make the effort to include them all in its schedule. Carnival has exclusive fares and schedules for seniors, classified as those 55 years and older. As of July 2018, these packages included rates as low as $369 for three days per person for a cruise from Orlando to The Bahamas.
The AARP
The American Association of Retired Persons (AARP) might be the most powerful resource for seniors on the planet, so does it come as any surprise that its at the forefront of senior travel as well? In addition to travel tips, vacation ideas, and free consultations for members with Liberty Travel, the AARP's website has a built-in Expedia app that allows seniors to search cruises by region and date, and get remarkable discounts on them. For instance, cruises to Hawaii on Norwegian Cruise Lines for August 2018 have their prices slashed more than 50% through AARP.
Guide for Seniors
Guide for Seniors is a bit like Consumer Reports for the senior lifestyle. It does lots of research into a host of popular topics and gleans the best data and information for its target audience; those 55 and older. It doesn't just give recommendations of which cruise lines to use, it also has a number of smart tips for seniors to live by when they travel by ship. Its current top pick for senior-friendly cruise lines is Azamara Club Cruises, a subsidiary of Royal Caribbean. Azamara caters to the senior lifestyle by taking extra time in ports to give guests the chance to explore new cities at their own pace. The on-ship experience is even more thorough. Azamara offers wheelchair-accessible staterooms, a medical facility with onboard physicians, spa services, acupuncture, and welcome service animals aboard. Azamara has senior citizen discount rates and special rates for single travelers as well. Other cruise lines making Guide for Seniors Top 5 include:
Holland America Line: Partnered with Special Needs at Sea and CruiseShipAssist  to provide access to wheelchairs and other mobility devices; offers Broadway show tunes and one of the best collections of onboard classic art in the world.
Royal Caribbean International: Great for multigenerational family vacations; offers several ways to really enjoy the journey, including a 300-foot tall observation tower and a lounge with a panoramic ocean view; casino and music hall; wheelchair-accessible staterooms.
Oceania Cruises: Very high staff-to-guest ratio; internationally-acclaimed restaurants; 85% of rooms have private verandas; free room service dining 24 hours a day; free shuttle service from ship to city center; free access to private Spa Terrace.
Silversea Cruises: Much smaller ships (take between 132-388 guests per voyage); travel to all seven continents; full medical center with doctor and nurse onboard; all-inclusive fare; Silver Links program for onboard golf lessons and visits to international courses.
Conclusion
The best bet to finding the ideal cruise to match your senior lifestyle is to do online research, check reviews from previous passengers, and make a phone call or two to the cruise line itself to get your questions answered. After that, pack your bag and head to your nearest port of call to hop on board.
Cindy Greenfield writes about Senior Health, Wellness and Life-Minded fulfillment. She facilitates and blogs for Cascade Group's Assisted Living Community in Bellingham.